RITM – BFC
New curricula at the University to succeed – innovate – transform – mobilise in Bourgogne-Franche-Comté
The objective of the RITM-BFC project is to favour and improve student success.
It results from a call for projects launched within the framework of the third "Investment for the Future" program (PIA 3) entitled "New curricula at the University" whose objective is to ensure better success of undergraduate students through diversified training adapted to diverse audiences.
RITM-BFC is a tool designed for training directors and educational teams to help them make student success a major stake for all.
It is planned over 10 years, with two priorities:
build more individualised curricula for better student success throughout their undergraduate years, and better prepare them to professional integration
develop life-long training.
Emblematic and foresight actions will be proposed to the stakeholders of training under the form of calls for projects to meet these priorities.
RITM-BFC aims to encourage initiatives and support educational projects. The project covers the whole region and involves institutional and socio-economic partnerships.
At the core of innovative projects, UBFC supports training and research to turn Bourgogne-Franche-Comté into a visible and attractive region.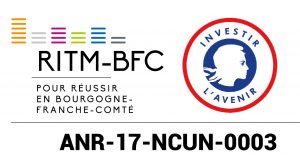 Retrouvez toute l'activité de RITM-BFC :
Six levers for transformation
RITM-BFC is going to operate at different levels:
Setting-up of a 7-day induction period when joining university, with meetings and workshops with educational teams, laboratories and firms, and mentoring.
Coordinators:
Christelle SERRE-CHAUSSINAND
Vice-president appointed to undergraduates
University of Bourgogne
Karin MONNIER-JOBE
Director of the careers advice service ("Orientation", stage, emploi; OSE)
University of Franche-Comté
Setting-up and proposal of cross-cutting teaching units (TUs) ("unités d'enseignement"; UE) along 4 lines: citizenship, social skills, first steps in research, entrepreneurship.
Coordinators:
Pierre ANCET
Vice-president appointed to cultural policies
University of Bourgogne
Claire DUPOUET
Vice-President in charge of cultural policies
University of Franche-Comté
Laboratory internships, with mentoring for Master's degree and PhD students. Calls for projects for the creation of Open-labs, for educational projects aimed at valorising research and training. Support of student international missions.
Coordinators:
Maxime JACQUOT
Scientific Head, CMI-Figure
University of Franche-Comté
Frédéric HOLWECK
Vice-president of the Council of Studies and University Life
Université Technologique Belfort-Montbéliard (UTBM)
Organisation of educational residencies, residency seminars, and biennial conferences on university education.
Coordinators:
Frédéric MUYARD
Vice-president in charge of training and student life
University of Franche-Comté
Jean-Jacques BOUTAUD
Vice-president elected at the Training and University Life Committee
University of Bourgogne
Training sessions for young graduates, biennial conferences on educational innovation for life-long training, residencies and immersions in firms, support to assumption of duties.
Coordinators:
Laurence RICQ
Vice-president in charge of life-long training and of relationships with the socio-economic sector
University of Franche-Comté
Gilles BRACHOTTE
Vice-president appointed to technological and professional training
University of Bourgogne
Creation of an original, cross-cutting system that will act as a coordinating hub for the engineering of training and new educational practices open onto society, onto the socio-economic sector and to international links. Laboratories of educational transformation and Fablabs.
Coordinator:
Pascaline PONCE
pascaline.ponce@ubfc.fr
Pascaline Ponce
Accelerator of educational transformation (AET-BFC) – Director
03 80 40 33 55 / 06 42 81 62 55
Juliette Brey-Xambeu
ATP-BFC – Educational engineer
03 80 40 33 55 / 06 74 41 42 37
Clarisse Moonca
Administrative and financial manager
03 63 08 26 78 / 06 42 81 64 01
Raphaëla L'Hôte
ATP-BFC – Educational engineer
03 80 40 33 56 / 06 48 72 34 92