Presentation
Université Bourgogne Franche-Comté (UBFC) is a community of universities and institutions (COMUE); it was born on 1st April 2015 and gathers seven higher-education and research institutions.
The creation of UBFC meets an imperative need for competitivity in Bourgogne – Franche-Comté. UBFC represents the development of higher education, research and innovation across the whole regional territory, based on the strengths and assets of the institutions it gathers. This development leads to a multidisciplinary, high-quality training offer, in link with research in recognised specialisation fields and in agreement with territorial economy and culture.
The strategic project of UBFC is that of a joint university that respects the sovereignty of its members while building up collective projects.
UBFC currently hosts more than 60,000 students and 8,800 staff. It spreads across 13 sites distributed in the Bourgogne Franche-Comté region. The student population is mainly found in the following four urban centres: Dijon Métropole, Grand Besançon Métropole, Pôle métropolitain Nord Franche-Comté, and Sud Bourgogne.
These centres are also at the origin of the strong industrial culture of Bourgogne – Franche-Comté, and currently offer great economic specificities, namely the agri-food industry, micro techniques, energy, and mobility.
Besides this regional economic activity, the key competences of Bourgogne – Franche-Comté have led to the emergence of three scientific lines of research recognised as themes of excellence at the international scale:
Advanced materials, waves, intelligent systems
Territories, environment, food
Integrated personalised care
Thus, the creation of UBFC makes it possible to develop the competitivity of Bourgogne – Franche-Comté at the local, national, but also international scales.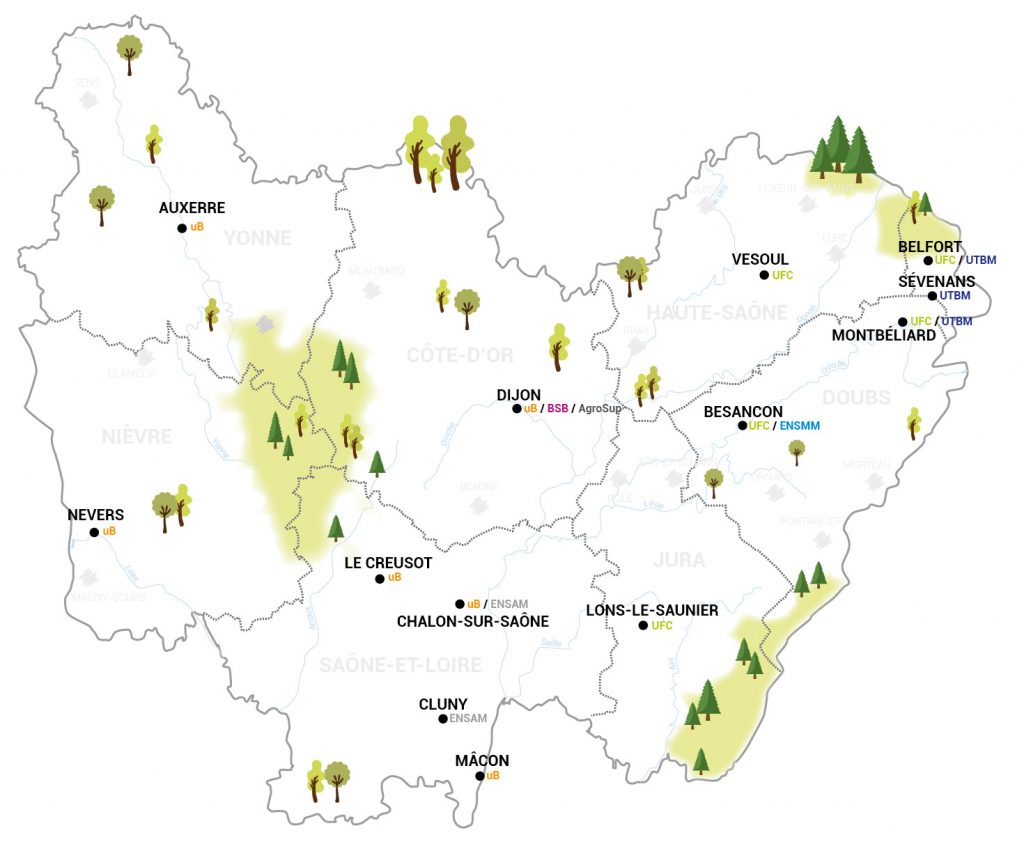 The seven founding institutions of UBFC are
Through the creation of UBFC, the grouping of the Bourgogne – Franche-Comté higher-education and research universities and institutions is aimed at addressing three strategic challenges, i.e.,
Create a global and legible organisation of higher education and research in Bourgogne – Franche-Comté
Intensify the excellence and internationalisation of research
Develop attractiveness for students, researchers, lecturers-researchers
Lead all students to success.
Thus, UBFC stands out by the collective projects it builds up and supports within the community, with positive effects on all its member institutions.
Among these projects are Investments for the Future programmes ("programmes d'investissement d'avenir", PIA) such as the "Initiatives Sciences Innovation Territoires Économie Bourgogne – Franche-Comté" (I-SITE BFC) project, the "Nouveau Cursus à l'Université" (NCU) project, and a University Research School ("École Universitaire de Recherche", EUR) also called Graduate School.
The competences of the whole community are mobilised to fulfill these projects; UBFC's diversity represents an asset at the service of all its members.