Student entrepreneurship: PEPITE-BFC
Develop entrepreneurship and innovation, bring out innovating projects for the development of our territory, facilitate professional integration by improving students' entrepreneurial skills, such are the objectives of PEPITE Bourgogne Franche-Comté, which is aimed for all UBFC students, whatever their domain and training level.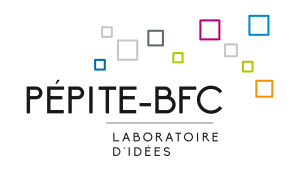 The PEPITE Bourgogne Franche-Comté was certified in March 2014. It is one of the 29 student centres for innovation, transfer and entrepreneurship ("Pôles Étudiants Pour l'Innovation, le Transfert et l'Entrepreneuriat") set up by the Ministry of Higher Education and Research. It proposes a whole range of actions to develop students' and young graduates' awareness to entrepreneurship, train them and support them.
It is composed of the seven higher-education institutions of Bourgogne-Franche-Comté, namely the Université de Bourgogne and the Université de Franche-Comté, the ENSMM, the UTBM, AgroSup Dijon, Burgundy School of Business, and the ENSAM Cluny. The PEPITE relies on numerous regional partners – business owners, financers, people involved in support to business setup, local and institutional authorities – to carry out its operations.
The PÉPITE toolbox shows that it is possible to carry out studies and also start a business thanks to the national student entrepreneur status ("Statut National d'Étudiant Entrepreneur", SNEE)).
More information at PEPITE-BFC Bourgogne Franche-Comté