Guy Millot – La fibre de l'optique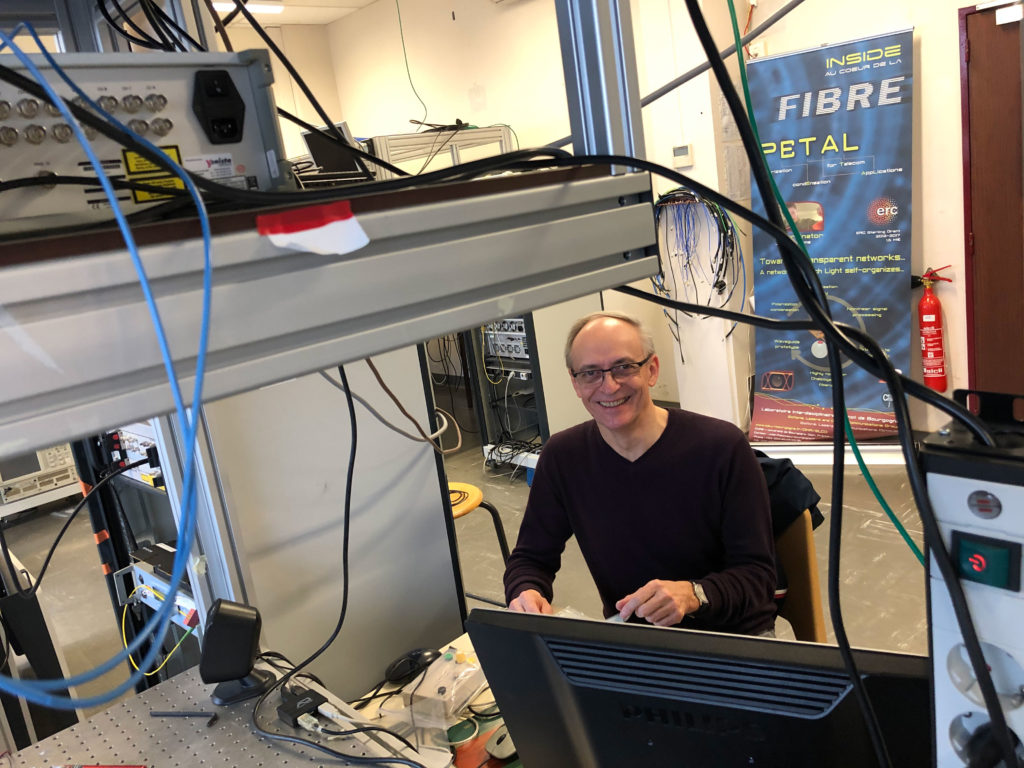 Membre junior puis membre senior de l'Institut universitaire de France, médaille d'argent du CNRS, fellow de la société américaine (OSA) puis de la société européenne d'optique (EOS)… Guy Millot est un physicien connu et reconnu pour ses travaux sur les communications à longue distance et solitons dans les fibres optiques et sur la spectroscopie par peignes de fréquence.
Et si, demain, il était possible de détecter la présence d'une bactérie dans notre organisme en analysant simplement l'air que nous expirons ? Le projet est tout à fait sérieux.  Il est le fruit des travaux de recherche prometteurs menés, depuis 2015, par Guy Millot et son équipe du laboratoire Interdisciplinaire Carnot de Bourgogne (ICB), dans le domaine de la spectroscopie de Fourier par peignes de fréquence – l'ICB associe le CNRS et Université Bourgogne Franche-Comté (UBFC). « Cette technique a révolutionné l'analyse de la matière, souligne le chercheur. Elle consiste à utiliser un spectre composé de raies fines et équidistantes, à la manière d'un peigne, obtenu quand une source de lumière délivre un train d'impulsions régulières. Les peignes de fréquence permettent de calibrer le temps de manière très fine et donc de calculer les distances avec une grande précision. Nos GPS, par exemple, fonctionnent grâce à cela. » Bien des équipes dans le monde se sont penchées sur les applications de ces peignes produits par des sources laser femtosecondes. Mais l'approche de Guy Millot est originale : plutôt que de coordonner entre elles deux sources laser produisant chacune des peignes comme de grands laboratoires hautement équipés cherchent à le faire au Max-Planck Institute de Münich ou au National Institute of Standards and Technology (NIST) dans le Colorado, il planche sur la modulation d'une seule source laser. « Cela permettra de démocratiser le procédé, qui deviendra à terme accessible à tous. Dans le domaine médical par exemple, on pourrait imaginer un appareil permettant d'analyser la teneur en carbone 12 et en carbone 13 de l'air expiré par un patient. Un moyen non-invasif de détecter la présence dans l'estomac de la bactérie Helicobacter Pylori, responsable d'ulcères et qui produit plus de carbone C13. » Autre application possible : la mesure, simple et en temps réel, de la composition des gaz d'échappement d'un véhicule ou encore des composés organiques volatiles dégagés par les plantes, afin de mesurer le niveau de stress de celles-ci. L'objectif de Guy Millot consiste donc à miniaturiser le procédé et à concevoir un appareil mobile utilisant des peignes de fréquence pour répondre à ces besoins. L'obtention d'un fellowship UBFC senior d'ISITE-BFC a permis au chercheur de poursuivre ce projet, qui fait l'objet d'un contrat de maturation avec la société d'accélération du transfert de technologie (SATT) SAYENS – contrat susceptible de déboucher sur une licence ou la création d'une start-up.
Les peignes de fréquence ne sont, pour Guy Millot, que l'un des derniers sujets de recherche d'une longue carrière dans le domaine de l'optique. En 1986, au terme de ses études à l'université de Bourgogne (uB) et de sa thèse en spectroscopie moléculaire, ce physicien, natif d'Alligny dans le Morvan, est recruté par Bourgogne Technologies, organisme dont la vocation est de promouvoir les technologies de pointe auprès des entreprises bourguignonnes – les techniques laser sont à l'ordre du jour à l'époque, à l'instar de l'angioplastie en cardiologie. Deux ans plus tard, il est recruté comme maître de conférences à l'uB, où il deviendra professeur en 1994. Entretemps, il a passé six mois à Boston pour un post-doc sur la spectroscopie des gaz, au Massachusetts Institute of Technology (MIT) s'il-vous-plaît. Ses travaux de recherche, de retour en France, portent sur la spectroscopie Raman puis sur les solitons. Ces impulsions lumineuses brèves et puissantes sont la clé pour assurer des communications de qualité à très haut débit sur de longues distances, entre les continents en particulier. Des entreprises comme France Télécom ou Alcatel fournissent alors des bobines de fibre optique à la jeune équipe, qui se constituera au fil des années un parc de matériels de pointe (amplificateurs optiques, tours de fibrage…). L'équipe SLCO (Solitons, Lasers et Communications optiques), rattachée au département photonique de l'ICB et codirigée par Guy Millot et Frédéric Smektala, devient rapidement une référence internationale. Elle attire des doctorants de haut niveau et publie abondamment. Elle obtient même un record mondial de propagation, à 160 gigabits par seconde sur plus de 1.000 kilomètres. Ce succès vaut à Guy Millot la médaille d'argent du CNRS en 2004 et, en 2000, sa nomination à l'Institut universitaire de France, comme membre junior – avec, à la clé, des moyens financiers supplémentaires pour le laboratoire et surtout du temps pour poursuivre ses recherches. Il reviendra à l'IUF quelques années plus tard, en 2018, cette fois comme membre senior. Deux ans avant qu'il ne se lance sur son nouveau terrain de jeu, la spectroscopie par peignes de fréquence donc, Guy Millot est nommé fellow de la Société américaine d'optique (OSA) en 2013. Et en 2020, il sera fellow, cette fois, de la Société européenne d'optique (EOS). À 61 ans, l'enseignant-chercheur dijonnais reste dans la lumière.