Master P2 FOOD
Physiological and psychological FOOD choice determinants
Outline of the program

P²FOOD is a 2-year, course-based, full-time international research Master's Degree focused on the physiological and psychological determinants of food choice, offered by Université Bourgogne Franche-Comté and AgroSup Dijon.
Food plays a much bigger role in consumers' lives than simply feeding them. Each day, humans make several food choices. Their diet has considerable impact on their nutritional status and health, but also on the environment.
A greater understanding of the reasons for consumers' choice of foods is needed in order to set up effective programs and develop new products, to improve dietary patterns in line with recommendations, and to increase food sustainability. Although seemingly simple, food choices are complex behaviors that depend on many factors and their interactions. In this Master's Degree, a key focus is placed on the physiological and psychological factors of food choice.
Program description
As a student in this Master's program, you will gain in-depth knowledge about food properties and fundamental insights about human food behaviour. You will acquire sensory and consumer research methodology. You will come to understand the mechanisms of hunger, satiety and satiation, and the factors involved in palatability. You will study the influence of stress and mood on food behaviours, and explore the ways in which cultural context influences food choices. You will examine the importance of representation and consumer attitudes towards food, as well as the reasons for resistance to dietary change. You will understand why it is necessary to take on this issue in an interdisciplinary way.
Curriculum
Our approach is student-centered and participative. It combines lectures, seminars and practicals, workshops and individual/team projects. The modules below are indicative of those offered in this program. This list is based on the current organization and may change year to year in response to new needs in the food industry.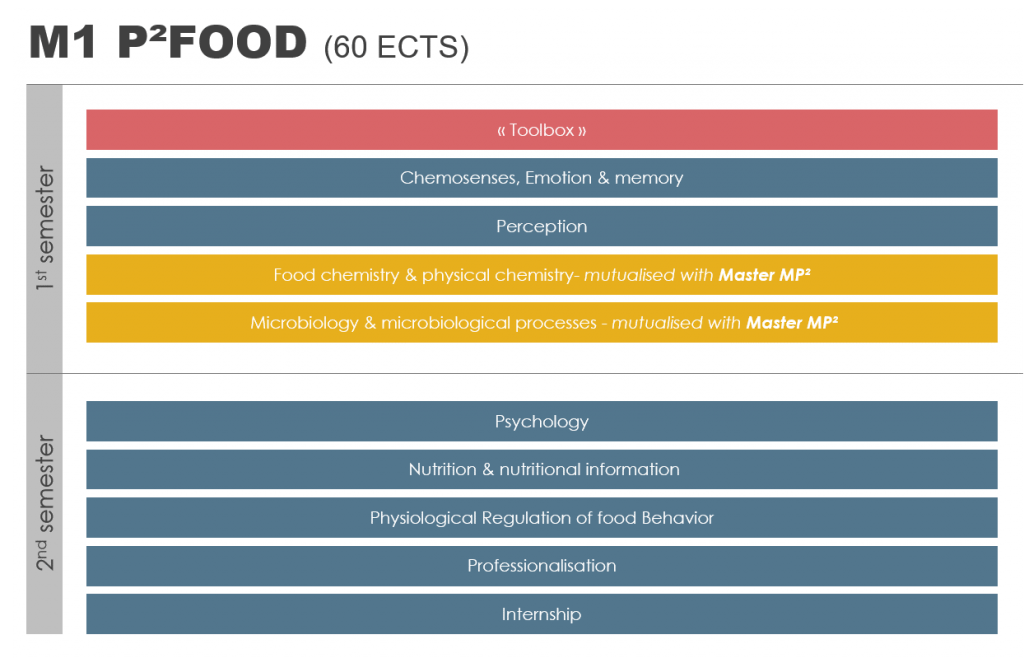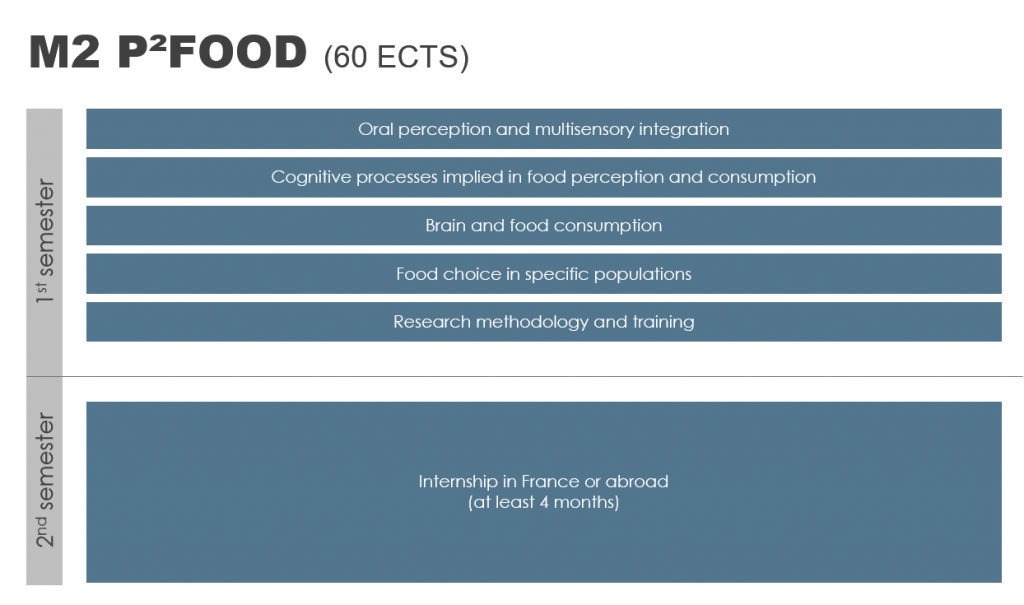 Future career prospects
This Master's Degree aims at providing students with job-relevant competencies and skills for a career in industry (project leader or research engineer in nutrition; consumer science and R&D departments of international companies) or an academic position (food and consumer research; sensory and cognitive neuroscience research; food, nutrition and health research, etc.).
Entry requirements
Applicants must hold a Bachelor's Degree or equivalent (180 ECTS) in food sciences, nutrition, biology and biochemistry. Those having completed a Master's Degree or equivalent (240 ECTS) related to psychology or neurosciences can apply directly to the 2nd year.
Candidates for whom English is not their mother tongue or who haven't done their studies in English will have to give a certificate to attest of their English level. The following tests will be accepted as a certification of the required English level :
CECRL : level B2 minimum

TOEFL : 87 points minimum

TOEIC : 785 points minimum

BULATS : 60 points minimum

First Certificate English of Cambridge

Bright Language Test : level 3 minimum
Such a document is not necessary for candidates for whom English is their mother tongue, or who have validated a minimum of one semester in English during their Bachelor of Science. However, in both cases, the candidates must absolutely mention it in their application file.
Once the application file is considered as "complete", several criteria will be taken into account for the selection :
the university level (grades)

a strong interest for the sector adds value to your file. This interest can be shown by an experience in this field (internship, project, and experiences) and/or explained in the cover letter. This will be even more important if you are planning to take your studies back or change your field of study

the professional project.
Grants
Fellowship grants (up to 800 € per month, during up to 10 months) are awarded each year to high quality inernational students, by the Université Bourgogne-Franche-Comté. They can also have access to a wide range of funding programs (Grants from French embassies, AUF bursaries, etc.).
International students (outside of EU) will have to show a minimum of financial resources to obtain their VISA : at least 615€ for each month spent in France (10 months).
For more information, you can visit Campus bourses website:
http://campusbourses.campusfrance.org/fria/bourse/#/catalog
Contacts
If you need general information : p2food@agrosupdijon.fr
If you need precise information about classes :