Master MP2
Microbiology and Physicochemistry for food and wine Processes   
Outline of the program  
MP2 is a 2 year course-based, full-time international research Master's degree focused on Microbiology and physico-chemistry applied to food and wine processes. This Master aims at training future researchers and managers of the food and wine science and industry.
Program description 
You will have a strong international mobility. One semester will be out of France in the first year and another one is possible during the second year. The modules below are indicative of those offered in this program. This list is based on the current organization and may change year to year in response to new needs in the food industry.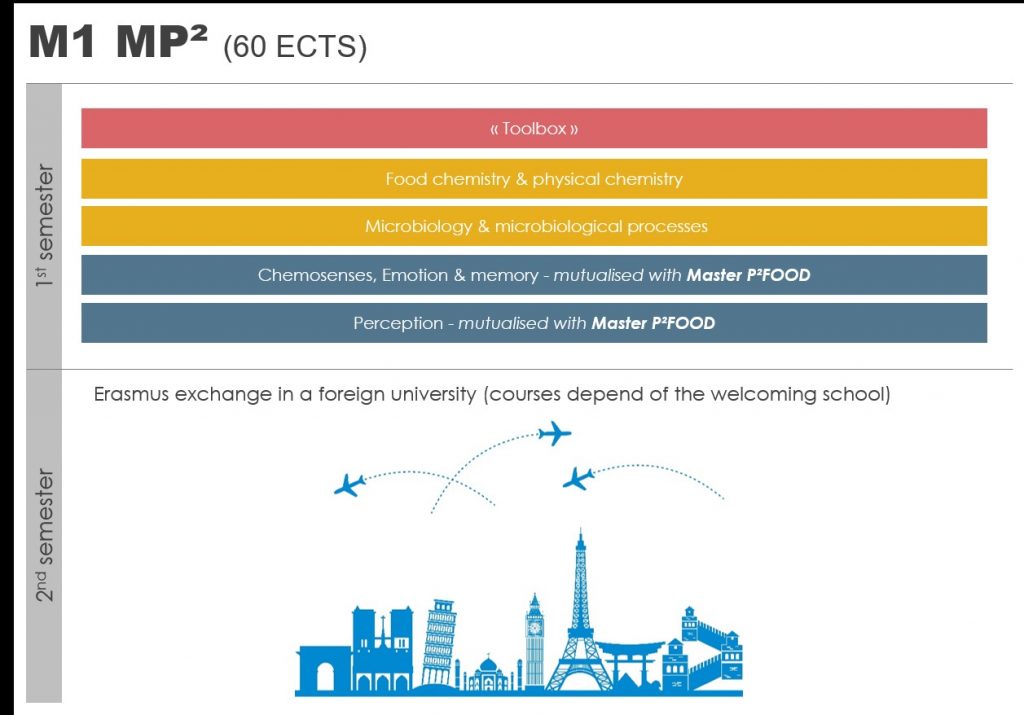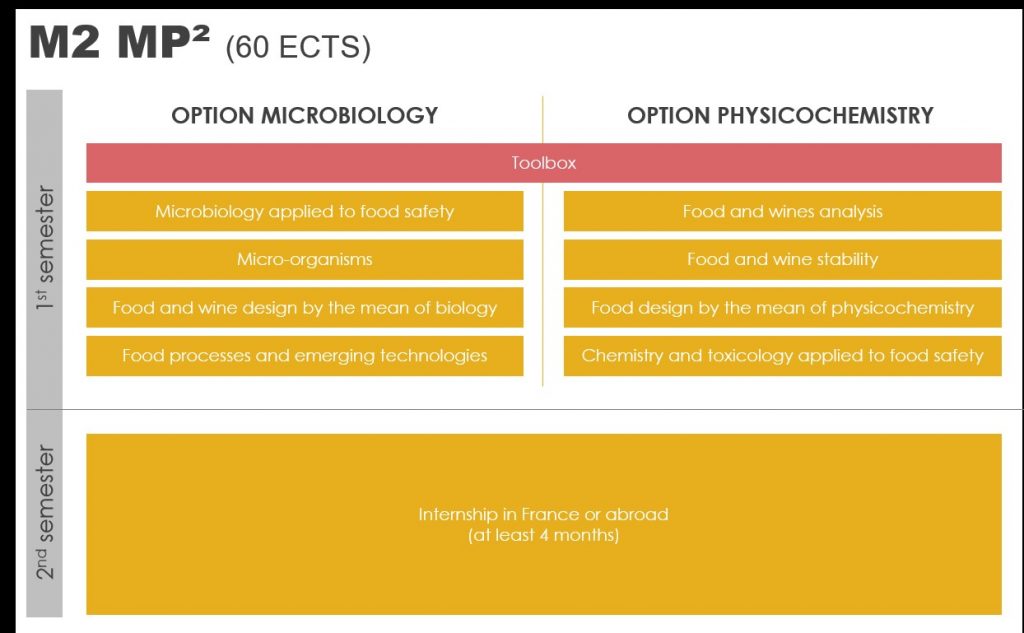 Future career prospects   
This Master's degree aims at providing students with job-relevant competencies and skills for a career as research project leader in academic laboratories, research institutes or R&D departments of international companies. The expertise will be in the field of microbiology and microbiological processes, chemistry and physical chemistry applied to food and wine science. Students will be encouraged to perform a PhD after this Master's degree.
Entry requirements 
Applicants must hold a Bachelor's degree or equivalent (180 ECTS) in biology, food science, chemistry, physical chemistry or engineering science. Those having completed a Master's degree or equivalent (240 ECTS) related to biology, chemistry or physical chemistry can apply directly to the 2nd year.
Candidates for whom English is not their mother tongue or who haven't done their studies in English will have to give a certificate to attest of their English level. The following tests will be accepted as a certification of the required English level :
CECRL : level B2 minimum

TOEFL : 87 points minimum

TOEIC : 785 points minimum

BULATS : 60 points minimum

First Certificate English of Cambridge

Bright Language Test : level 3 minimum
Such a document is not necessary for candidates for whom English is their mother tongue, or who have validated a minimum of one semester in English during their Bachelor of Science. However, in both cases, the candidates must absolutely mention it in their application file.
Once the application file is considered as "complete", several criteria will be taken into account for the selection :
the university level (grades)

a strong interest for the sector adds value to your file. This interest can be shown by an experience in this field (internship, project, and experiences) and/or explained in the cover letter. This will be even more important if you are planning to take your studies back or change your field of study

the professional project.
Grants

Fellowship grants (up to 800 € per month, during up to 10 months) are awarded each year to high quality foreign students, by Université Bourgogne-Franche-Comté. They can also have access to a wide range of funding programs (Grants from French embassies, AUF bursaries, etc.).
International students (outside of EU) will have to justify a minimum of financial resources to obtain their VISA : at least 615€ for each month spent in France (10 months).
For more information, you can visit Campus bourses website : http://campusbourses.campusfrance.org/fria/bourse/#/catalog