LabEx LipSTIC
Lipoproteins have been extensively studied in the cardio-vascular field. In the 1950's, the transport of cholesterol by lipoproteins was an attractive research topic. LDLs were identified as a major risk factor, while numerous epidemiological works highlighted the "protective" role of HDLs.
The involvement and function of lipoproteins in cancer and inflammatory diseases was only evidenced recently. LDLs and HDLs are also prognostic factors of cancers or certain inflammatory or infectious diseases. These recent findings have brought about an increasing interest in lipoproteins.
The use of these molecular complexes to prevent, diagnose or treat cancer and inflammatory diseases mobilises and federates the LIPSTIC Labex teams.
LipSTIC: Lipoproteins and health, prevention and treatment of inflammatory diseases and cancer
LipSTIC is a multidisciplinary research program unique in France. It gathers 19 research teams and 4 companies.
Its main objective is to contribute to the fight against the scourge of cancer, but also to make advances in the fields of transplant and inflammation.
It relies on the original and ambitious idea to use lipoproteins to:
prevent the occurrence and progression of non-vascular pathologies such as cancer and inflammatory diseases
transport insoluble bioactive molecules (lipids or drugs) in water matrices to the target diseased organ
neutralise and transport pro-inflammatory bacterial compounds to the liver for them to be eliminated.
This research is organised around 4 main lines of research directly addressing lipoproteins and one cross-cutting axis aimed at accelerating the social and economic impacts of this newly acquired knowledge:
WP1: Transport and vectorization of bioactive molecules
WP2: Lipids and inflammation in the initiation and progression of cancer, as well as in immunotherapy
WP3: Lipids and bacterial endotoxins in inflammatory diseases
WP4: Scientific and therapeutic knowledges and innovations for health
Transverse WP: Valorization and regulation of innovative drugs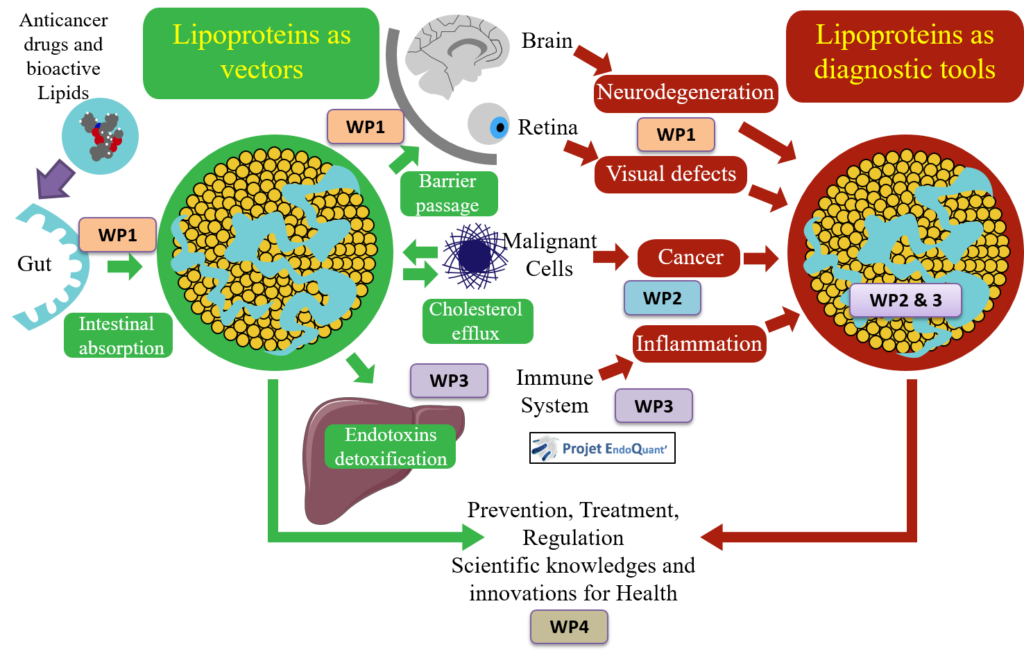 More information on this project supported by UBFC and its lines of research on :
A LabEx (Laboratory of Excellence) is part of the Investment Program for the Future. Its objectives are the following ones:
to provide significant means to research units for them to be on a par with their foreign counterparts
to attract researchers and lecturers-researchers of international renown
to build an integrated, high-level policy of research, training and valorisation aimed at large dissemination of knowledge.